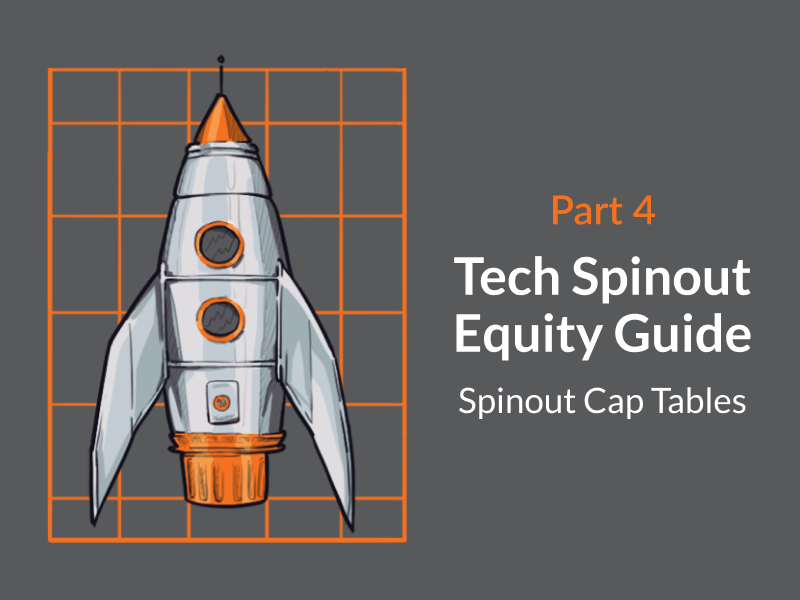 Spinout cap tables have some unique aspects to them.
Spinout cap tables are a little different to venture-style startup cap tables and a little different to private equity cap tables but draw on both. There will usually be more influence from private equity or startups depending on the nature of the spinout.
In this final part of our four part Tech Spinout Equity Guide we will look at the cap table of the spinout itself.
Previously we covered:
We're going to draw on each of these to discuss spinout cap tables. And, following a similar format to previous parts of the guide, we're going to look at spinout cap tables by considering the different pathways or style of spinout.
The style of spinouts we will look at are:
Joint Venture Spinout: A Going Concern
Joint Venture Spinout: A New Venture
Spinout by Acquisition
Spinout by Management
The word style is used deliberately because there is always some nuance to spinouts so they may not always fit neatly into a categorisation. You'll want to consider your situation from first principles.
Joint Venture Spinout: A Going Concern
This style of spinout is where two or more partners come together to take a going concern from within a larger business and spin it out into its own business.
What do we mean by going concern? A going concern is usually defined as a business that is operating and making a profit. For our purposes here, we need to think a bit more loosely and think of a unit within a business that has revenue and ideally, but not necessarily, profits.
The original owner of the business is contributing the going concern and everything that goes with it like assets, cashflows, customers, revenues and employees.
The new partner will be making a contribution as well. This could be upfront or overtime. It might be a capital investment or it may be something else.
The table below shows what this style of spinout might look like immediately after spinout and then after the new partner has achieved some performance milestones.
Table 1: Cap Table for a Going Concern Spinout and Joint Venture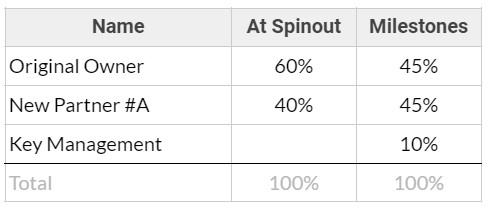 As you can see this somewhat resembles private equity cap tables.
Joint Venture Spinout: A New Venture
This style of spinout is where two or more established partners come together to create a new venture based around the assets, insights or other advantages of one or both of the partners.
The phrase "new venture" is used deliberately because there will be a greater element of risk or uncertainty around cashflow, revenue, product/market fit or some other aspect of the business in comparison to a going concern.
For example:
A partner may have intellectual property they've developed and used internally but haven't formally sold it to others.
A partner may have a unique insight and a distribution channel but not the ability to execute on commercialising that insight.
The table below shows what the cap table for this style of spinout looks like. It follows the journey from formation through to raising capital from investors, instituting an employee share scheme and bringing on key management to be co-founders.
Table 2: Cap Table for a New Venture that is a Joint Venture Spinout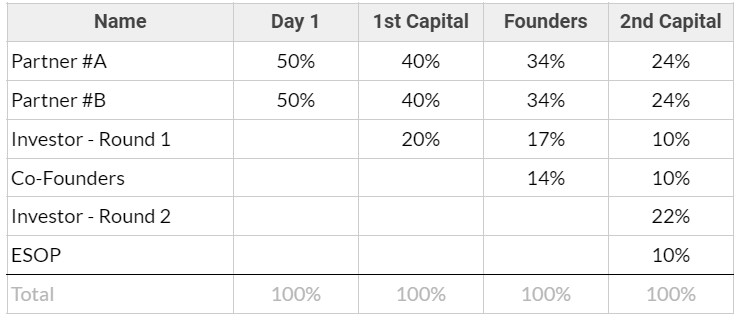 As you can see it eventually resembles a venture-style startup cap table.
Spinout by Acquisition
This is a spinout where a new owner acquires the business from the original owner. The original owner might stay involved in the business or the spinout may move on from them.
Keeping the original owner involved on the cap table may allow you to pay a lower price for the business because the original owner is slightly more aligned with the new owner's longer term outcomes through equity. That is, the original owner may gain returns along the way as the spinout becomes more valuable rather than pushing for a higher return on spinout.
Table 3: Cap Table for Spinout by Acquisition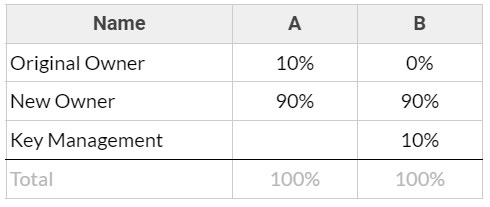 Spinout by Management
This style of spinout is where management drives the spinout.
This may be done with a capital partner or by management. It may make sense to keep the original owner involved or it may not. Sometimes this might be undertaken by the Original Owner as a next step in a new journey for part of their business.
Table 4: Cap Table for Spinout by Management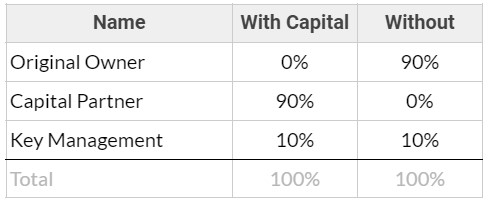 There is also the option of a management buyout or MBO as it's often known where management buys the business off thyhje original owner using their own cash or the cashflow from the business itself.
Next
We may develop add-on parts to this guide to cover topics like mechanisms in spinouts, frequently asked questions and helpful tips.
Further reading
Read the other articles in the Tech Spinout Equity Guide: